Dear Colleagues,
It is with great pleasure that we invite you to join us The Virtual Congress on Modern Oncology (VIM2021) which will take place 26 April 2021.
See you online!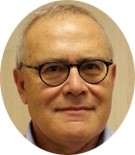 Prof. Jacob Schachter
Sheba Medical Center, Israel
Congress Chair
READ MORE
REGISTER NOW
VIRTUAL CONGRESS
SPONSORSHIP OPTIONS
Contact Us
Please drop us a line with any questions or comments you may have.

We look forward to hearing from you.