Dear Colleague,
It is with great pleasure that we invite you to attend The Virtual Congress on Modern Oncology (VIM2021) which will take place 26 April 2021.
The Congress will focus on the latest developments and findings in immuno-oncology therapy as well as targeted therapy. The Congress will examine treatments available on the market as well as treatments still in the development stage.
Topics will include, amongst others:
– New horizons in treatment toward curing cancer
– Targeted Therapy in Melanoma
– Biomarkers in Immunotherapy
– Reversed Personalized Medicine – the Microbiome
– IO/IO combinations across indication rational and preliminary results
– Life Threatening AE's of CI
We look forward to welcoming medical professionals, treatment experts, industry leaders and other experts online.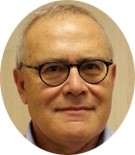 Prof  Jacob Schachter
Director Emeritus, the Ella Lemelbaum Institute for Immuno-Oncology, Sheba Medical Center,  Israel
Congress Chair